Did you know the CDC estimates that 1 in 6 Americans (or 48 million people) gets sick from contaminated food each year?
Most people will recover without a problem, however 128,000 are hospitalized and 3,000 die of foodborne diseases annually. And for some the effects of food poisoning can have long-term health consequences.
For the past few weeks there has been an ongoing Salmonella outbreak associated with raw chicken products produced by Foster Farms at three facilities in California. According to Wired.com there are seven strains of Salmonella circulating within this outbreak and four of the seven strains are drug-resistant.
The CDC reports 1,000 or more reported outbreaks that happen each year in the U.S. reveal familiar culprits—Salmonella, E. coli and other common germs. And health experts know (and people need to learn) that reducing contamination works.
During the past 15 years, a dangerous type of E. coli infection, responsible for the recall of millions of pounds of ground beef, has been cut almost in half. Yet during that same time, Salmonella infection, which causes more hospitalizations and deaths than any other type of germ found in food and $365 million in direct medical costs annually, has not declined.
Each year, 1 million people get sick from eating food contaminated with Salmonella. Applying lessons learned from reducing E. coli O157 infections could help reduce illness caused by Salmonella.
But realize more than 250 different foodborne diseases have been identified and described on record. Most of these diseases are infections, caused by a variety of bacteria, viruses, and parasites that can be foodborne.
These different diseases have many different symptoms, so there is no one "syndrome" that is foodborne illness. However, the microbe or toxin enters the body through the gastrointestinal tract, and often causes the first symptoms there, so nausea, vomiting, abdominal cramps and diarrhea are common symptoms in many foodborne diseases.
Common myths about food safety at home
Myth: It's OK to thaw meat on the counter. Since it starts out frozen, bacteria isn't really a problem.
Fact: Actually, bacteria grow surprisingly rapidly at room temperatures, so the counter is never a place you should thaw foods. Instead, thaw foods the right way.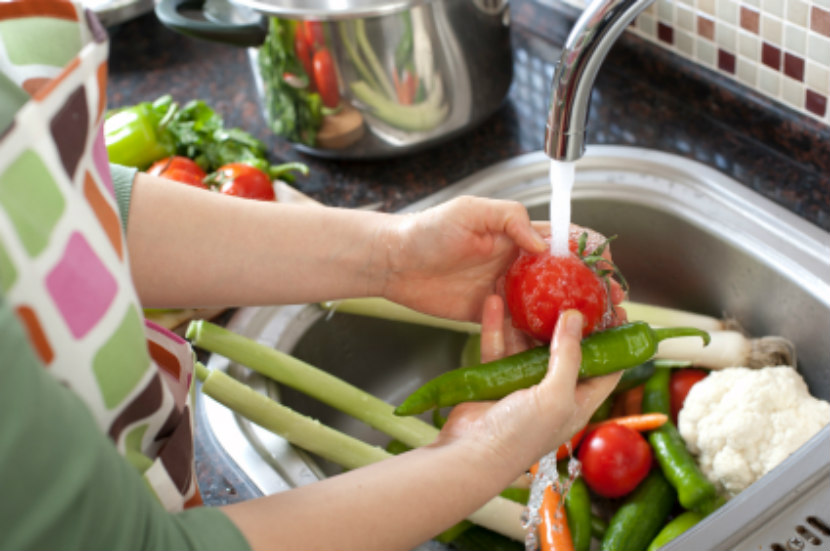 Myth: I don't need to wash fruits or vegetables if I'm going to peel them.
Fact: Because it's easy to transfer bacteria from the peel or rind you're cutting to the inside of your fruits and veggies, it's important to wash/scrub all produce, even if you plan to peel it.
Myth: To get rid of any bacteria on my meat, poultry, or seafood, I should rinse off the juices with water first.
Fact: Actually, rinsing meat, poultry, or seafood with water can increase your chance of food poisoning by splashing juices (and any bacteria they might contain) onto your sink and counters. The best way to cook meat, poultry, or seafood safely is to make sure you cook it to the right temperature. 

Myth: Marinades are acidic, which kills bacteria—so it's OK to marinate foods on the counter.
Fact: Even in the presence of acidic marinade, bacteria can grow very rapidly at room temperatures. To marinate foods safely, it's important to marinate them in the refrigerator
Myth: Once food has been cooked, all the bacteria have been killed, so I don't need to worry once it's "done."
Fact: Actually, the possibility of bacterial growth actually increases after cooking, because the drop in temperature allows bacteria to thrive. This is why keeping cooked food warmed to the right temperature is critical for food safety.
Things you can do to reduce food borne illnesses 
Clean. Wash hands, cutting boards, utensils, and countertops. To clean everything effectively use a mixture of 1 teaspoon of bleach to 1 quart/liter (or gallon/4 liters) of water. Also wash cooking utensils used to handle raw meats before you use them to remove cooked food stuffs. And always wash your hands [and under fingernails] after cracking open eggs and handling raw meats of any kind.
Separate. Keep raw meat, poultry, and seafood separate from ready-to-eat foods. If possible, use different cutting boards for meats and veggies (or at least always use 1 side for meats and the other for produce) … and wash it with a mixture of water and bleach (see above) to remove germs before turning it over since meat juices can spread. Also use separate plates or dishes for raw versus cooked meats.
Cook. Use a food thermometer to ensure that foods are cooked to a safe internal temperature: 145°F (63°C) for whole meats (allowing the meat to rest for 3 minutes before carving or consuming), 160°F (71°C) for ground meats, and 165°F (74°C) for all poultry.
Chill. Keep your refrigerator below 40°F (4°C) and refrigerate food that will spoil.
Report suspected illness from food to your local health department.
Don't prepare food for others if you have diarrhea or vomiting.
Be especially careful preparing food for children, pregnant women, those in poor health, and older adults.
Visit FDA's Clean, Separate, Cook, and Chill pages to see the most effective ways to help keep your family safe from food poisoning or learn more on www.foodsafety.gov or www.cdc.gov/foodsafety/. Take care, j & B
Save